At the Gallery "By the Way", which consists of five big "shoppingwindows" in the centre of Bergen. At this site I wanted to use the possibility that I had to play with and to answer the flow of pictures that exists in the cityroom and which mostly has a commercial purpose.
I simply showed me and my relatives. Five big portraits. One for each window applied with a plain account whom each person is (from my perspective): "Me", "My mother", "My father", "My grandmother", "My grandfather".

More info about Galleri By The Way: www.galleribtw.no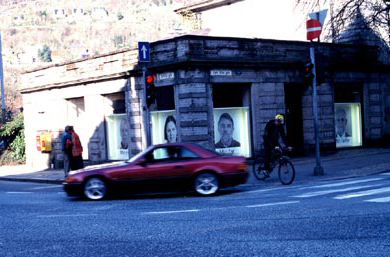 big pict.