Back to startpage about the installation Skogsbruk - ilona huss walin
For english scroll down.
Lösa kompositioner med nedfallna grenar
Jag bor i Masthugget i centrala Göteborg och har Slottsskogen runt hörnet. Det är en stadspark som består av planerade parkområden och en hel del naturskog. Jag besöker ofta skogen då den ligger så nära. För åtta år sedan började jag promenera i Slottsskogens skogsterräng för att jag hade ont i ryggen. Jag hade hört att man får bra rygg av att gå i oregelbunden terräng. Det stämde att jag mådde bättre i ryggen. Jag började även använda "barfotaskor" vilket är bra träning för fötterna och jag känner tydligt skogsmarken under fötterna. I perioder har jag promenerat varje morgon som en slags rutin bara för att må bra och jag har fortsatt med det även nu när jag är frisk från ryggont. Jag undviker asfaltsgångvägarna som finns lite överallt, jag behöver dock korsa dem ibland för att ta mig från ett skogsparti till ett annat. Ibland behöver jag gå längsmed en asfaltsstig en bit men då går jag alltid vid sidan av.  
När jag började gå i oregelbunden skogsterräng i Slottsskogen kunde jag konstatera att det utöver mig enbart var en del hundägare och dess hundar, knappt ens de, som gjorde detsamma. De flesta håller sig till asfaltsgångvägarna i Slottsskogen. Ibland kunde jag få en känsla av att folk undrade och blev lite oroliga av att jag avvek i var jag gick. Men kanske det bara var min känsla. Och jag bestämde mig direkt för att inte bry mig om vad andra tycker om hur jag går i Slottsskogen. Jag har en rutinronda i skogsterrängen som jag alltid tar som tar ca 40 min. Vet inte varför det alltid blir exakt samma väg men jag tror jag tycker det är skönt att slippa tänka på vilken väg jag ska välja. Jag har gått den i åtta år nu så jag förmodar att jag bidragit till att skapa stigar där. 
Jag hade i konsten gått med i Club Anthropocene och deltagit i workshops under ett antal år och under en vandringsföreläsning om skogsbruk på Stora Bornö i Bohuslän blev jag förälskad i ämnet Skogsbruk. Jag började göra filmer om skogsbruk. Då fascinerades jag av att jag inte tidigare tänkt vad skog egentligen är, att all mark blir skog av sig självt om man bara låter den vara, men att vi nu har nästan enbart planterade uppstyrda monokulturer över hela Sverige. Parallellt med mitt nyfunna intresse för skogsbruk började jag under mina vandringar i Slottsskogen plocka med mig nedfallna grenar från skogen och dra in dem i min ateljé. Min tanke var att jag i konsten vill jobba mer fysiskt ett tag och även ta vara på mina skogspromenader. I ateljén började jag arbeta med grenarna förutsättningslöst för att se vad som uppstod.  
Jag skrev texter med grenar och gjorde installationer med det och nu har jag också börjat jobba med att göra skjutvapen med grenarna. Jag tror att skriva text och göra vapen med grenar är någonting som ligger de flesta människor väldigt nära. Det har också blivit en njutning att kombinera det här, de har kanske legat i tjugo år på marken de här grenarna och blivit riktiga karaktärer när jag sen plockar upp dem tar in dem inomhus. Och att kombinera det här jättevackra i de här grenarna med vapnet som på nåt sätt för mig är djävulen ondskan. Den paradoxen eller den kontrasten har jag gillat så jag har fortsatt att jobba med det. Jag tycker det är spännande när "natur" och "kultur" möts. Jag har strävat mot att försöka hitta den balansen. Flera av kompositionerna jag har gjort tycker jag är mycket vild natur där grenarna lever sitt egna liv samtidigt som de också tydligt liknar något slags våldsamt vapen.  Jag lägger dem på golvet och flyttar runt dem i lösa kompositioner, plötsligt klickar det till och så liknar det en kulspruta. När jag presenterar de lösa grenkompositionerna i "konstrummet" låter jag grenarna hänga löst på spik på väggen. Då tror jag att man som betraktare intuitivt kan känna av det här att det är rörligt och föränderligt och att man får fram känslan av lekfullhet som jag upplever finns i projektet. 
De nedfallna grenarna som jag plockar upp från marken när jag går min ronda i Slottsskogen är på väg att ruttna och bli jord. De är en del av ett ekosystem. Jag avbryter det när jag plockar upp dem och tar in dem inomhus. En del av grenarna som jag har haft i min ateljé lägger jag tillbaka i samma skog. De har då hunnit torka så det tar nog ett tag innan de blir en del av förmultningsprocessen igen. 
Under mina promenader i Slottsskogen möter jag både vilda och inburade djur. Ofta kan jag se en ekorre som hänger på en stam med klorna i barken och riktar ena ögat mot mig länge. Rör jag mig närmare springer hen upp för stammen ut på en gren, blir helt stilla igen och riktar ena ögat mot mig. Vissa dagar för ekorren ljud samtidigt som den ser på mig, jag undrar om den är irriterad. Rådjuren kan skrämma mig ibland då de är som människor i storlek men kamouflagefärgade. När jag ser att det är ett rådjur blir jag lugn. Ett par platser på min ronda är mer ensliga, med bara skog och ingen asfaltsstig inom synhåll. Jag minns att jag för några år sen kunde känna mig rädd för människor eller snarare rädd för att behöva bli rädd. Minns hur jag kunde se över axeln och springa allt vad jag orkade för att ta mig igenom ett skogsparti till ett mer öppet område. Jag har mött en och annan hundägare och även några som ska röka på. En och annan som bara är ute och går, som jag. Men trots att det är mitt i stan träffar jag väldigt sällan andra människor i de skogliga områdena. Numera är jag aldrig rädd kanske har jag gjort platserna jag går igenom till mina.  
På somrarna är det ibland en del skräp från utomhusfester i Slottsskogen. Särskilt en plats som är en väldigt fin festplats mitt i skogen, som ett vardagsrum, intim men öppen, ljust och grönt med lite utsikt. Där är det ofta kvarglömt plastmuggar, chipspåsar, ölburkar, flaskor och plastpåsar. Ibland tar jag en av påsarna som ligger och skräpar och plockar upp resten av skräpet i den. Slänger i en av de designade papperskorgarna vid en asfaltsgångväg. 
 Jag går alltid förbi älgarna som är inhägnade högst upp som mest avlägset från stadsliv. Där är det ofta folk som står och begrundar, beundrar älgarna. Jag tycker synd om älgarna. Stadsfenomen, vilda djur i bur. Jag tror fria älgar brukar gå och springa långa sträckor i vildmarken. Så det liv de har här är nog inte optimalt även om jag tror de har den största inhägnaden av de djur som finns i Slottsskogens djurpark. De är alltid minst två älgarna, ibland har de ungar. Den med horn äter nu från bundet ris av färska kvistar och den utan står en bit bort med nosen i vädret, luktar kanske på vinden och marken. Tittar på mig ibland. Det kommer en djurskötare. Älgarna går då direkt in i en stuga som de har på sin gård.  
Ibland när jag inte är i Slottsskogen tänker jag på mina terrängrondor där. Då ser jag mig själv, hur jag går och särskilt mina fötter som är i kontakt med marken. Det är något visst med att gå i skogsterräng när jag nästan alltid annars går på asfalt, betonggolv eller trägolv som är platt. Det är som en slags dröm, fast den är verklig.  
Ilona Huss Walin 2022
For english scroll down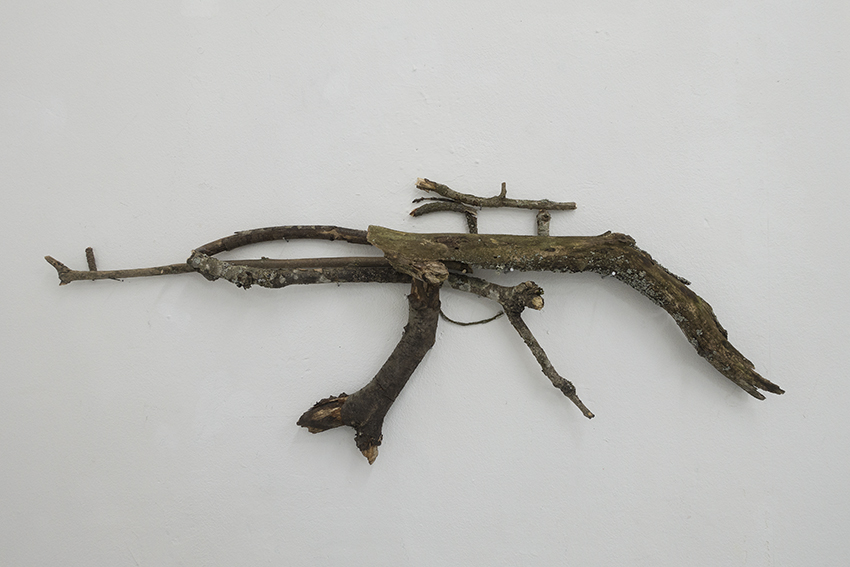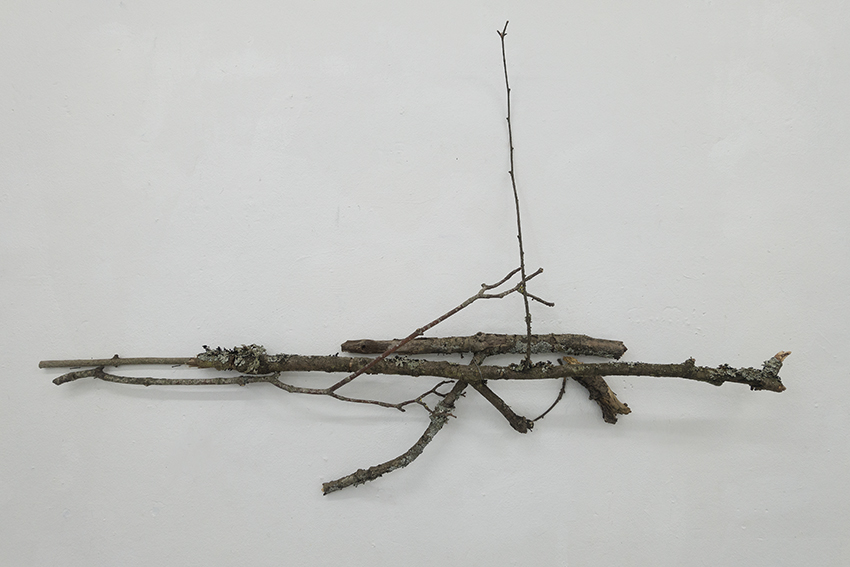 https://www.ilonahusswalin.com/skogsbruk1.htm
Loose compositions with fallen branches
I live in Masthugget in central Gothenburg with Slottsskogen (The Castle Forest) just around the corner. Slottsskogen is a city park that combines planted park areas with a lot of natural forest. I often visit the park since it is so close by. Eight years ago I started taking walks in the forest terrain there due to back pains. I had heard that walking in irregular terrain is good for back problems. I also started using 'barefoot shoes' which give good exercise for the feet and let me feel the forest floor clearly underfoot. For some time now I have routinely been taking daily morning walks just for the sake of well-being even though I no longer have back pains. I avoid the asphalt trails that are just about everywhere, although, sometimes I need to cross them in order to get from one part of the woods to another. Sometimes I need to walk along an asphalt trail for a while but then I always walk a bit beside it.  
 Some years ago, in connection with my art, I joined Club Anthropocene and participated in workshops for a couple of years. During a walking lecture with the club on the island Stora Bornö in Bohuslän, I fell in love with the subject of forestry. I started making films about forestry. At the time I was fascinated by the fact that I hadn't previously reflected on the true nature of forests. I hadn't considered that all land becomes forest if only left to itself, and that we now plant practically only organised mono-cultures all over Sweden. Parallel to my new-found interest in forestry, during my walks I started gathering fallen sticks and branches from the forest floor and bringing them to my studio. The idea was to work more physically for a while and to make use of my walks in my art. I started working spontaneously in the studio with the sticks and branches to see what would emerge.  
In the summertime there is sometimes some litter from open-air parties in Slottsskogen. Especially in one place, a very nice party spot in the middle of the forest, like a living-room, intimate but open, light and green with some good views. Plastic cups, chip bags, beer cans, bottles and plastic bags are often left there. I sometimes fill one of the discarded bags with the rest of the litter and throw it out in one of the designed litter-bins by an asphalt trail.  
I always walk past the elks, fenced in on the hilltop, furthest away from city life. There are often people standing there contemplating, admiring them. I feel sorry for the elks. City phenomena, wild animals in cages. I believe free elks usually walk and run long distances in the wild. So it's probably not an optimal life for them here even though I think they have the largest enclosure of the Slottsskogen zoo. There are always at least two elks there, sometimes they have calves. The one with antlers eats from a bundle of fresh sticks and the one without stands at a distance with its muzzle in the air, perhaps smelling the wind and the ground. Sometimes looking at me. A keeper arrives. Immediately the moose walk into a shed they have in their yard.  I sometimes think about my terrain routes when I'm not in Slottsskogen. Then I observe myself. I observe how I walk, and especially my feet that are in contact with the ground. There's something special about walking in forest terrain since I almost always walk on asphalt, concrete floors or wooden floors that are flat. It's a dream of sorts, although it is real. 
Ilona Huss Walin, 2022
English translation Robert Frederick Lyons